Conference Venue
University of Economics in Bratislava
University of Economics is located at Dolnozemska cesta 1, 852 35 Bratislava, Slovakia. It is on south (Petržalka) side of the Danube River, but easily reachable from the city center by car, or by public transport to the bus stop Ekonomicka Univerzita (buses no. 68, 78, 87, 88, 98, 184), or to a near stop Bulikova (buses no. 84, 99).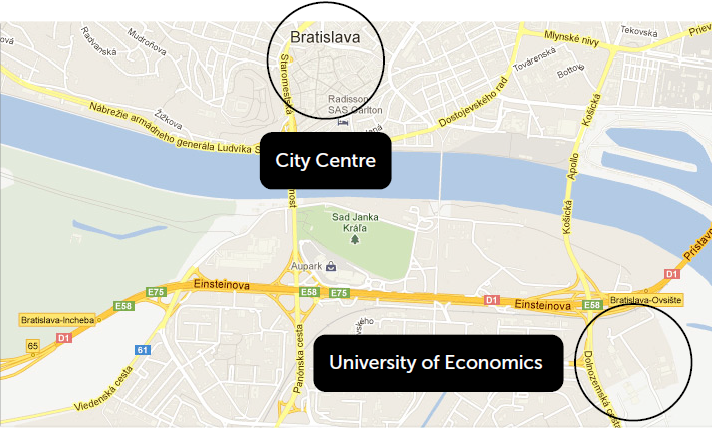 The conference takes place at the main building of the University.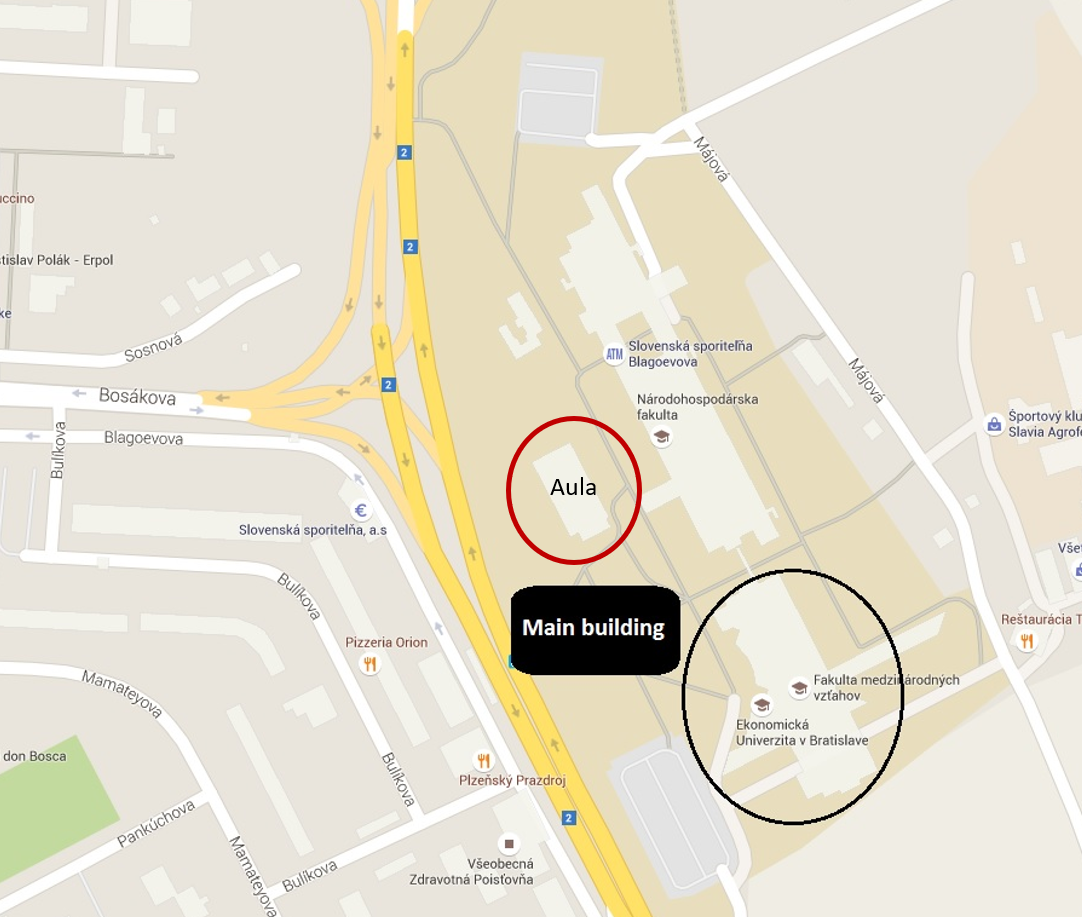 DIRECTIONS
How to get to the University
From the
BUS Station
(Autobusova stanica / AS Mlynske Nivy) take bus no. 88 (direction Novy most). Get off at 4th stop Ekonomicka univerzita, cross the street by an underpass and you are at the university.
From
Airport
(Letisko) take bus no. 61. (direction Hlavna stanica). Get off at stop Bajkalska (an approx.16 min. ride), cross the huge road crossing diagonally. Then take bus no. 98 (direction Petrzalka, Jasovska) and get off at 3rd stop Ekonomicka univerzita.
From the
Main Train Station
(Hlavna stanica) take bus no. 40 to Autobusova stanica. Walk approx. 50 meters and take bus no. 88. Get off at stop Ekonomicka univerzita.
From
Petrzalka Train Station
take bus no. 99 (direction Ovsiste) and get off at Bulikova (from Bulikova it is approx. 200 meters to the University).
From
City Centre
(departure at bus stop Hodzovo namestie or Zochova) take bus no. 83 (direction Technopol). Get off at stop Halova, from where on you take bus no. 88 (direction Autobusova stanica / AS Mlynske Nivy). Get off at stop Ekonomicka univerzita. During work days you can take also bus no. 84 to get from Zochova or Hodzovo namestie to Bulikova (from Bulikova it is approx. 200 meters to the University).
How to get from bus stop Bulikova to the University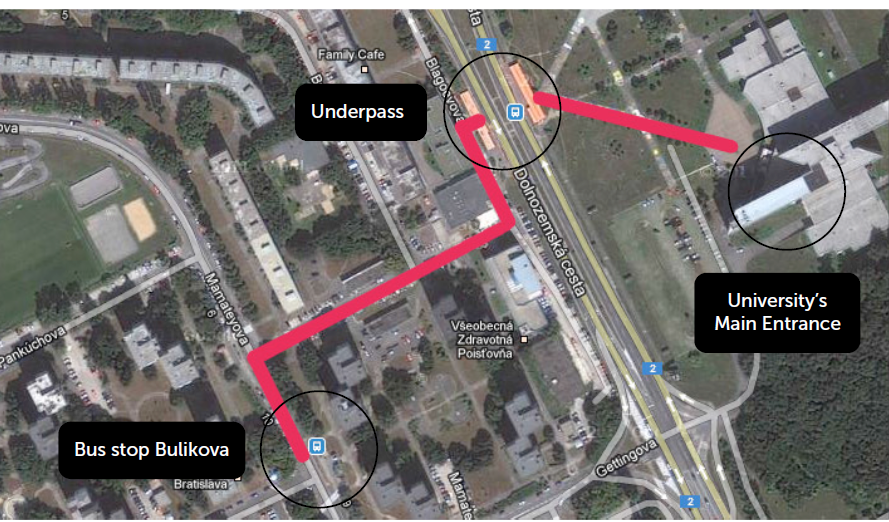 HOW TO GET TO BRATISLAVA
Airlines and Airports

If you want to fly to Bratislava, you can choose between the city's own international airport and Schwechat airport in Vienna, which is about 45 km from Bratislava and connected by regular shuttle buses. Bratislava's airport is the biggest in Slovakia and one of the fastest expanding in Europe. Regular flights link it to other Slovak cities and with many major European destinations.
A city bus service, number 61, connects the airports to the main railway station and onward connections to the city center. By car, it normally takes 15 minutes to reach the center of town.

Auto Travel and Car Rental

Bratislava is connected to neighboring capitals by international multilane highways. Within Slovakia, the D1 motorway connects Bratislava to the east of the country and the D2 motorway connects Bratislava with Hungary to the south and the Czech Republic to the north. These roads also form part of international routes E58 (to Austria) and E65 (to Hungary and the Czech Republic). The D1 and D2 motorways are linked in Bratislava by a partial ring road on the south (Petržalka) side of the River Danube. Traffic jams on the ring road are rare and it is the fastest way to get from one end of the city to the other, especially if you are unacquainted with the inner-city traffic system. Most major international car rental companies have offices in the city, some with branches at the airport. There are also several local companies offering car rental at competitive rates.

Boating

Perhaps the nicest way to arrive in Bratislava is by riverboat, via the Danube. The Rhine–Main–Danube Canal links Bratislava with the North Sea; the Danube River connects it to the Black Sea. Cruises along the Danube have been a big hit with tourists for many years. River cruises go to and from Budapest, and a scheduled passenger service, the Twin City Liner, connects Bratislava and Vienna by high-speed catamaran several times a day during summer (services are less frequent in winter).
Bratislava's passenger port is in the heart of the city near the pedestrian zone, major historical monuments, and a wide array of attractive restaurants and cafes. Around 300,000 passengers pass through the port each year. During the summer, boat services also run to Devín Castle, at the confluence of the Danube and Morava Rivers, and on to the nearby Austrian village of Hainburg; or downstream to the Danubiana art gallery and the hydroelectric dam at Gabčíkovo.

Rail Travel

Trains in Slovakia are the safest and most agreeable way to travel throughout the country. International trains to Bratislava's main railway station run from Vienna (1 hour), Budapest (3 hours), and Prague (4-5 hours) several times a day. There are less frequent direct connections to Berlin, Bucharest, Kiev, Moscow and Warsaw. The main railway station is a short distance from the center and there is a regular tram connection; alternatively, walking takes 15-20 minutes. Trains from Vienna also arrive at Bratislava–Petržalka station, which is to the south of the city center across the Danube River.
Timetable information can be obtained from the website of the national rail operator or at this popular travel website.

Public Transport in Bratislava

Most sights and places of interest to tourists can be found in the city centre, or within walking distance of the pedestrianized old town. If you need to travel further afield within the city, the best way to do so is by public transport. Bratislava has a comprehensive network of public transport lines running at regular intervals according to defined timetables. Departure times and a list of destinations, with the journey time to each, are posted for each service at every stop it serves. Public transport in Bratislava (MHD) is run by the public transport authority, DPB, which operates bus, tram and trolleybus lines whose last departures from terminal stops are at about 23:00 (11pm). The first services in the morning normally start at about 04:20 (4.20am). Between 23:30 (11.30pm) and 05:00 (5am), several night bus services (their numbers are prefixed with an 'N') operate in Bratislava, most of them starting at the main railway station. To use any public transport service in the city, you must validate a pre-purchased ticket upon boarding by inserting your ticket into one of the red devices found on board each vehicle. Tickets are available for different zones, however for travelling in the city of Bratislava following tickets are applicable:

- a 15-minutes, multi-ride journey (0.70€)
- a 30-minutes, multi-ride journey (0.90€)
- a 60-minutes, multi-ride journey (1.30€)
- 24 hours (3.50€)
- 72 hours (8.00€)

If you are travelling with a large bag it needs a (reduced-fare) ticket too. Reduced 15-minutes ticket (0.70€) is valid 3 hours. Tickets can be bought from newspaper kiosks and shops, and from the yellow coin operated machines located close to many stops. Passengers must stamp their ticket in the nearest stamping machine. A ticket that has not been stamped is not valid. A passenger who cannot provide a valid ticket to the inspector will have to pay a fine in accordance with the currently valid public transport regulation. For more information about the public transport and timetable information go to: www.dpb.sk or www.imhd.sk.
The map of line network is here.
Journey planner is here.


Taxi Service

Bratislava has about 20 separate taxi firms with over 2,000 vehicles and at least one hundred additional drivers who are not signed up with any firm. Taxis that carry a sign with the name of a taxi service are generally a cheaper and safer option than unmarked cars with only a yellow taxi light on the roof.
Recently, a smartphone application named Hopin has gained in popularity - it is worthwhile to use it if you are staying in Bratislava for more than a few days. Hopin allows you to order a taxi without making a phone call - you can see taxis on a map, rate drivers and communicate with them via text chat.
Approximate total prices (depend on whether the taxi was ordered by phone, hailed in the street or picked up at a taxi stand, whether it is signed up with one of the companies or independent).

Recommended companies including companies with fix price for ride:
Easy Taxi Bratislava: +421 918 555 555 – fixed price of one drive 5 € including downtown and Petržalka
Fun taxi: +421 2 16777, +421 2 16333, +421 2 16016 – 1.16 €/Km
VB Taxi: +421 17 158, +421 18 158 – 0.59 €/Km


WELCOME TO BRATISLAVA, THE LITTLE BIG CITY
Bratislava, the capital of Slovakia and former coronation city of the Austro-Hungarian Empire features an impressive number of historical and modern architectural landmarks, parks, and interesting venues on display. A walk around Bratislava's most important historical sites will take you away from the buzz of the modern world, throwing you several centuries back to experience how grand this city then used to be.
Bratislava, as a city on the Danube River, has been inspirational for many great artists. A river flowing across the city is magical. The promenade along the Danube River is very popular with locals since there is nothing like the view over the Danube on a sunny day or at sunset.
There are many places in Bratislava that allow you to see the city from a bird's eye view. All of them will show you very different picture. From the observation terrace of the preserved St. Michael's gate you can see the pulsating center of the city. Looking out of the UFO on the New Bridge will give you a feeling of sci-fi. A lift will take you all the way up to the restaurant 85 meters high. The dominant and the symbol of the town - the Bratislava castle offers the best view of Bratislava's biggest residential apartment buildings area and of the neighboring countries Austria and Hungary. The Small Carpathian region is first and most well known as a wine area. The region has been used for grapery for centuries. The reputation of the wines and their outstanding quality was spread to many countries of the world and even to royal courts. The region spreading around Bratislava has breathtaking, beautiful nature and there are a number of water surfaces where you can refresh yourself on a hot summer day.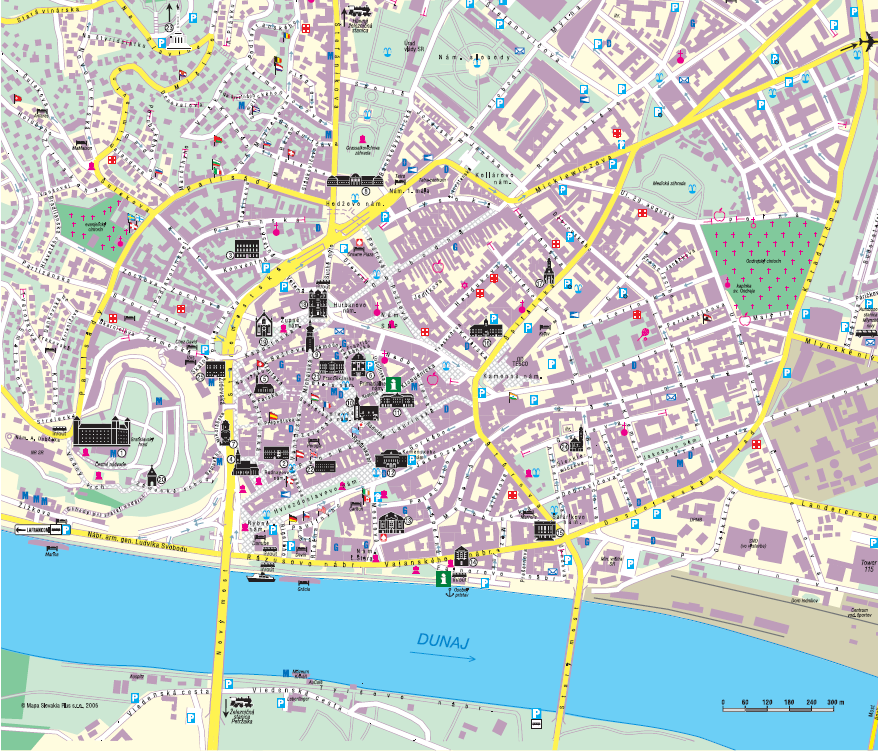 1. Bratislava Castle
2. Academia Istropolitana
3. Prostestant High School
4. St. Martin's Church
5. Church of the Order of the Sisters of St. Clare
6. Franciscan Church
7. The house of "The good Shepherd"
8. Grassalkovich Palace
9. Michael's Gate
10. Old Town Hall
11. Primate's Palace
12. Slovak National Theatre
13. Reduta
14. Slovak National Museum
15. The J. A. Comenius University
16. St. Ladislav's Church
17. St. Elizabeth's Church
18. Trinitarian Church
19. Capuchin Church
20. Sigismund's Gate
21. Mirbach Palace
22. Pálffy Palace
23. Slavín
24. Blue Church
25. Zsigray Mansion
Interactive map